Attitude Maxi Dress, Black Color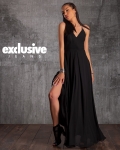 -20%
Recommended
Unavailable
Models wear: size XS in black, coral and blue. Models' height: 175 cm (brunette); 170 cm (blonde).
Free shipping
for orders over 200 €
Order now and get 10% off your next order.
Пазарувай и вземи отстъпка с натрупване:
Направете поръчка за следните суми и получете:
Важно! Регистрирайте се в сайта при покупката и запазете процента отстъпка за последващи поръчки.
Отстъпката не може да се комбинира с други промоции.
Check the SIZE chart here
Побързайте, остават само
0
налични бройки!
Express order
we will contact you about the details!
Add to Favorites
Your favourite products
Уведоми ме при промяна в цената
Elegant maxi dress with metal hoops and interlaced detailing at the back.
Material: Polyester
Style: Elegant, Evening, Formal
Season: Summer